40 – 59 Years Old (1941 – 1960)
While on Hua Mountain (1937-1945), on one hand Mr. Lee Yü-chieh practiced quiet sitting to enlighten himself to the cosmic realm, and on the other he prayed for the ultimate victory in the War of Resistance. For eight years he did not rest. Out of pity for his countrymen's wartime miseries he founded a relief organization, the "Red Heart Society", to distribute coffins and medicines, and give aid to those in distress. Through quiet contemplation he grasped the strategy of Japanese troop deployments and shared the information with General Hu Tsung-nan.
In the winter of 1942 he and his disciple Huang Wei-tao, through the mediumship of his oldest son, cooperated with the non-physical spirit-realm in scholarly "Heaven-to-human" research. Together they completed an elucidation of cosmic, natural mysteries entitled A New System of Religious Philosophy. This work is also titled The Ultimate Realm and is currently the Teaching Text of the Lord of Universe Church.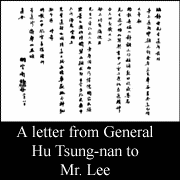 On the eve of victory in the Anti-Japanese War, Yun-lung Chih-sheng instructed him: "There is another mission for you. Leave the mountains promptly and prepare to go to the Island of Immortals [Taiwan]."
In 1947, as China was torn by civil war, he brought together leaders from various religions to found the "League of Religions," calling for peaceful reconstruction of the nation.
In 1949, upon moving to Taiwan, he prayed to diminish human catastrophe, and for China's future. That year he made a prediction to the public: "I am absolutely optimistic about Taiwan's future. From now on till the end of World War III, Taiwan will safely remain as a paradise of freedom in the world."
In 1951 he took over operation of the Independence Evening Post. In 1958 he gave up his membership in the Kuomintang, objecting that the government was impeding freedom of the press with its revised publishing laws. The masthead of the Independence Evening Post bore these words: "Not affiliated with any party or faction; Independently operated." Up to today the paper's masthead carries these words.